California's Nonfatal Worker Injuries Remained Steady in 2016
The California Department of Industrial Relations has launched the 2016 occupational damage and sickness information on employer-reported accidents that exhibits nonfatal employee injured remained regular in the state.
Estimates offered by the U.S. Bureau of Labor Statistics' Survey of Occupational Injuries and Illnesses present California's general incidence price of nonfatal occupational accidents and diseases stays at three.7 instances per 100 employees for full time workers, the bottom price in over a decade.
The information contains detailed case and demographic tables, in addition to a abstract of findings by DIR's analysis workforce.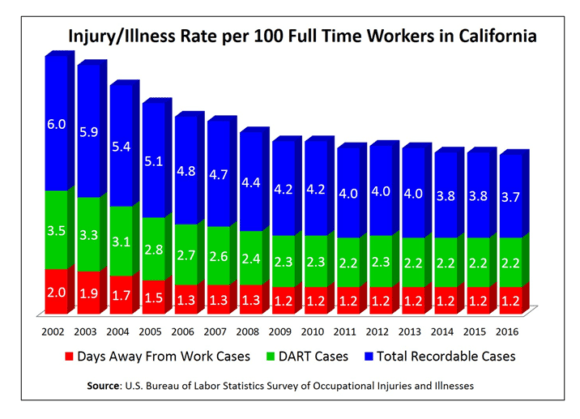 The estimates present there have been roughly 466,600 nonfatal reportable job associated accidents and diseases in 2016, with 78 p.c occurring in non-public and 22 p.c in state and native authorities sectors.
The statewide all-industry price of "lost time" instances – additionally referred to in the survey as "days away from work, job transfer or restriction" instances – remained fixed at 2.2 instances per 100 full time employees during the last 4 years surveyed, whereas the speed of days away from work instances has remained unchanged for the final eight years, in accordance with the DIR.
The with the best charges of instances in which there have been days away from work in 2016 had been for cleansing and upkeep employees (284 instances per 10,000 employees), these performing set up and repairs (252 instances) and building (243 instances).
// bind tweet action function trackTwitter()
// extract url from tweet button function extractParamFromUri(uri, paramName)
// Facebook async loading. (function() ());
window.fbAsyncInit = function() ;